When:
22/10/2021 @ 2:00 pm – 4:00 pm
2021-10-22T14:00:00+02:00
2021-10-22T16:00:00+02:00
Where:
Morges region
Échandens
Switzerland
Cost:
CHF140 (1adult+1child under 12 years old)
Holiday workshop for Child and Parent : CHF140 (Take Away)
Come along with your child and have fun together learning to make Sushi!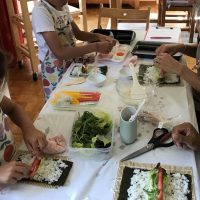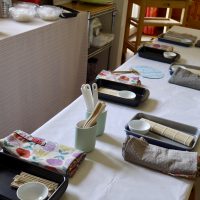 CHF 50 per additional child (under 12 years old) and CHF 70 per additional person (from 13 years old).
The class takes between 1.5 hours and 2 hours.
At the end you take away the sushi you've made.
You will learn;
how to prepare sushi rice
how to make Hosomaki (one ingredient), Futomaki (several ingredients) and other varieties of sushi
Please note:
There must be an adult accompanying the child
We allow one adult with one child, or with a maximum of three children (see pricing above)
The child must be under 12 years old
We need a minimum of 4 people for the class to go ahead (divided into 2 groups). If there are already more than 4 of you, you can ask for the class to be held on a date of your preference.
If you have any other questions, please contact us.
See you there!
Venez avec votre enfant pour vous amuser en apprenant faire des sushi.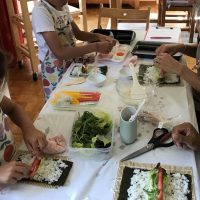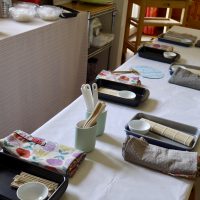 Holiday Sushi Making (à l'emporter) par parent avec enfant: CHF 139
CHF 49 par enfant (moins de 12 ans) supplémentaire et CHF 69 par adulte supplémentaire. L'atelier dure entre 1.5 et 2 heures. A la fin de l'atelier vous emporterez les sushis que vous avez faits.
Vous apprendrez
comment faire le riz pour les sushis
comment faire des Hosomaki (un seul ingrédient), Futomaki (plusieurs ingrédients) et d'autres types de sushi
A noter s.v.p :
Il faut un adulte qui accompagne l'enfant
Nous permettons un adulte avec un enfant, ou avec un maximum de trois enfants (voir les prix cités ci-dessus)
L'enfant doit être âgé(e) de 7 à 12 ans
Nous avons besoin d'un minimum de 4 avant que le cours ait lieu (on en fait 2 groupes). Si vous êtes déjà plus de 4, vous pouvez choisir la date de votre préférence.
Si vous avez encore des questions, veuillez nous contactez.
A bientôt!