When:
20/03/2019 @ 6:30 pm – 9:30 pm
2019-03-20T18:30:00+01:00
2019-03-20T21:30:00+01:00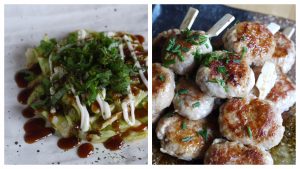 Vegetarian Okonomiyaki (Ôsaka & Hiroshima) and Tsukune
until 17th August.
These are not only vegetarian, but low carb and low calorie too!
In this class we will make low carb, low calorie vegetarian Okonomiyaki. Okonomiyaki is a savoury Japanese pancake often eaten as "street food". When you go to any outdoor festival in Japan, you will see the stand. We will make two types of Okonomiyaki: as Osaka and Hiroshima. I'm sure you will enjoy both of them!
Tsukune are Japanese meatballs usually made with chicken, but they are easy to make vegetarian with this recipe.
We will make:
Okonomiyaki Osaka style
Okonomiyaki Hiroshima style
Tsukune-burger with sweet savoury sauce
A salad or Japanese finger food with seasonal ingredients
Japanese mayonnaise
I will serve a free, home-made dessert.
See you soon!
from 28th August