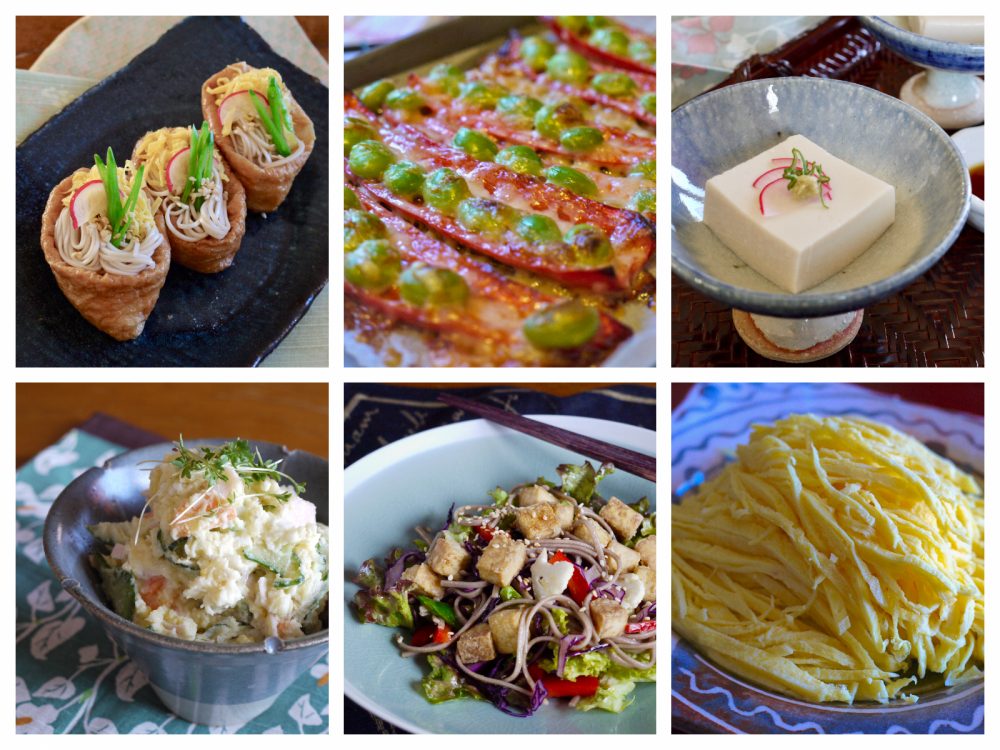 Have you heard of Soba noodles ( buckwheat noodle)? This is my favourite Japanese noodle… (well, I love other Japanese noodles, such Ramen and Udon too!) It's normally served cold with a dipping sauce or hot with a soup. Both are accompanied with very simple topping such as Negi(Japanese long onion, somewhere between leek and spring onion). In this class however, we will make two original dish using soba.
We will also make Goma-tôfu (sesame-tofu) which is often used in Shôjin-ryôri (Japanese traditional vegetarian meals at Buddhist temples). We will include the Japanese traditional ingredient, Kuzu starch.
Vegetarian with Japanese Food / Spring-Summer : CHF98
Soba salad with tôfu crouton (salad with Japanese soba noodles-buckwheat noodle)
Salad dressing for soba salad with Japanese vegetarian broth
Soba inarizushi (soba noodle sushi with Age- fried tôfu wrap)
Usuyaki-tamago (thin egg sheet) and arranged usuyaki-tamago
Goma-tôfu (sesame tôfu)
Edamame beans apéro
Japanese potato salad
* Homemade dessert and Japanese tea are offered.