Japanese Confectionery : Daifuku-Mochi & Dorayaki : CHF69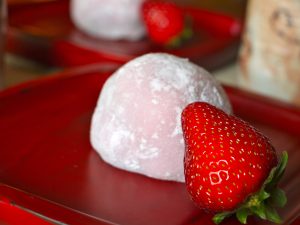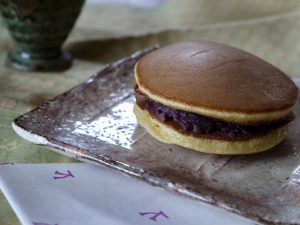 In this class we will make two sweet desserts : a special kind of Daifuku-Mochi and Dorayaki.
Mochi is a rice paste made from glutinous rice. Classic Daifuku-Mochi is made of only two ingredients: sweet mochi and a sweet Azuki bean paste called anko. Ichigo-Daifuku adds a strawberry. It's very popular now in Japan, as is Dorayaki. The Japanese film "Sweet Beans" (in English) introduced these dishes to people outside Japan.
* This class takes place from a minimum of 4 people.
Nous ferons Ichigo-Daifuku et Dorayaki à ce cours. Ichigo-Daifuku est mochi sucrée, anko (pâte de pois Azuki sucrée) et fraise, et il est très populaire maintenant en japon ainsi que le classique daifuku-mochi (seulement les mochi sucrée et anko) Dorayaki est bien connu du film japonais: "Sweet Beans (en anglais) / Les délices de Tokyo (en français)".
* Ce cours a lieu à partir d'un minimum de 4 personnes.
Japanese Confectionery : Daifuku-Mochi & Dorayaki : CHF69
・Ichigo Daifuku (a Japanese sweet mochi with anko and strawberry* filling)
・Dorayaki (Japanese pancake sandwich with anko filling
・*Japanese tea is offered. 
*Note;
– The strawberry could be changed to other seasonal fruits depending on the market condition.
 · Ichigo Daifuku ( un mochi japonais sucré avec une garniture d'anko et de fraise *)
 · Dorayaki (sandwich aux crêpes japonais avec remplissage anko)
・*Le thé japonais est offert.
*Remarque;
– La fraise pourrait être remplacée par d'autres fruits de saison en fonction des conditions du marché.