Holiday Class for Parent & Child : Making Sushi (take away class)
Vacance Cours de Cuisine Parent & Enfant : Faire de Sushi (cours de emporter)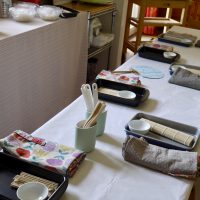 *CHF129 per group / plus CHF49 per additional child, CHF69 per additional adult.
*CHF129 par group /plus CHF49 par enfant supplémentaire, CHF69 par adult supplémentaire

How do you enjoy your holiday? How do your children enjoy their holiday? How about having fun together with the same activity, such as "Making Sushi"!
You learn how to prepare sushi rice
You make Hoso maki, Futo maki and several different variety of sushi
One adult & one child or maximum up to three children

Child age is 7 – 15 years old
There must be an adult present

This class is held from 4 people (2 groups)

This class takes 1h30-2h, and take away the sushi
*If you are already more than 4 people, you can request the date you prefer.
If you have any questions, please use the contact form. Thank you.
See you there!
Comment vous vous amusez le vacance? Comment vos entants amusent le vacance? Qu-est-ce que vous poncez faire même activité ensemble comme "Faire sushi"!
Vous apprendez comment cuire de riz pour sushi
Faire le hoso maki, futo maki, et plusieurs variétés de sushis
Un adult et un enfant ou maximum jusqu'a trois enfants.
L'âge de l'enfant est de 7 à 15 ans. 
C'est obligatoire un adult dans un pair.
Ce cours aura lieu à partir de 4 personnes. (2 pairs)

Ce cours prend 1h30-2h, et emporter les sushi

* Si vous étes déjà plus 4 personne, vous pouvez commander des date votre prepere.
Si vous avez des questions, contactez de form contactez. Merci!
A bientôt!
Making Sushi : Child & Parent
17.10.2018 (Wed/me) 10:00
18.10.2018 (Thu/je) 10:00 : in English / en anglais
26.10.2018 (Fri/ve) 10:00
*The class which language is not mentioned is not yet decided English or French.
*Le cours dont la langue n'est pas mentionnée n'est pas encore décidée en anglais ou en français.
theMatchaGreen