Japanese Confection : Daifuku-Mochi & Others : CHF79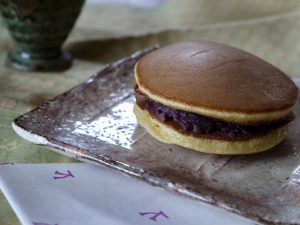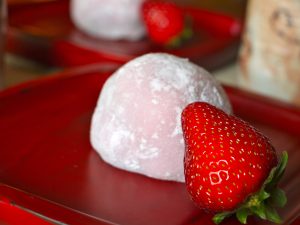 What are Japanese desserts? I'm not sure if we have a dessert category or not. Wagashi (= Japanese confectionery in Japanese) are served before matcha tea at traditional Japanese tea ceremonies. The traditional Japanese course meals often finish with a fruit compote.
We will make 3 different Japanese sweets at this class. This will include Ichigo-Daifuku. Daifuku with ichigo (=strawberry) is still very new, but it's very popular now. We make Dorayaki too, which is well known from the Japanes film: "Sweet Beans (in English) / Les délices de Tokyo (en français)".
* This class takes place from a minimum of 4 people.
Quels sont les desserts japonais? Je ne suis pas sûr si nous avons une catégorie de dessert ou pas. Wagashi (= confiserie japonais en japonais) sont servis avant le thé matcha lors des cérémonies traditionnelles du thé japonais. Les plats traditionnel japonais se termine souvent avec une compote de fruits.
Nous ferons 3 gateaux japonais différents à cette classe. Cela inclura Ichigo-Daifuku. Daifuku avec ichigo (= fraise) est encore très nouvelle, mais il est très populaire maintenant. Nous faisons aussi Dorayaki, qui est bien connu du film japonais: "Sweet Beans (en anglais) / Les délices de Tokyo (en français)".
* Cette classe a lieu à partir d'un minimum de 4 personnes.
Japanese Confection : Daifuku-Mochi & Others : CHF79
  ・Ichigo Daifuku (a Japanese sweet mochi with anko and strawberry* filling)
  ・Dorayaki (Japanese pancake sandwich with anko filling)
  ・Mitarashi dango (skewered mochi ball with a sweet salty sauce)
*Note;
– This is a take away class.
– The strawberry could be changed to other seasonal fruits depending on the market condition.
  · Ichigo Daifuku ( un mochi japonais sucré avec une garniture d'anko et de fraise *)
  · Dorayaki (sandwich aux crêpes japonais avec remplissage anko)
  · Mitarashi dango (boule de mochi brochette avec une sauce salée sucrée)
*Remarque;
– Ceci est une classe à emporter.
– La fraise pourrait être remplacée par d'autres fruits de saison en fonction des conditions du marché.