Japanese Cooking : How to Use Tofu (Vegetarian Menu)

Izakaya style menu (Japanese tapas) with tofu!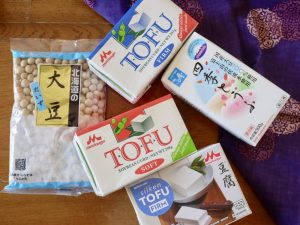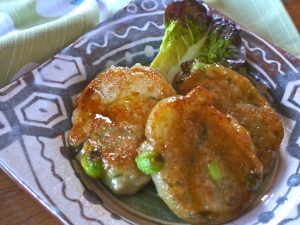 Tofu is made from soy beans. It's traditionally a very fresh food, made very early in the morning, and normally eaten within the same day. The flavour is very simple, you may think it's boring. But if you have the chance to go to Japan, please try some local tofu.
The tofu we use in the class you can buy in a supermarket or Japanese grocery shop in Switzerland. You can easily incorporate it in your everyday life.
*  *  *
Japanese Cooking Class : Cooking with Tofu (CHF 98)
Tofu karage (Japanese style fried chicken, we make with tofu)

Gyoza with tofu filling (Japanese style pan fried dampling)
Shiraae (Traditional Japanese tofu & vegetable salad)

Finger food with aburaage (aburaage = deep fried crispy tofu)
Tofu soboro don (rice bowl with flavoured minced tofu & vegetables)
* Dessert with tofu is offerd
* All menus are suitable for vegetarian.
The menu may be slightly changed depends on seasonal ingredients.
Le tofu est composé de graines de soja. C'est traditionnellement une nourriture très fraîche, faite très tôt le matin et normalement consommée au cours de la même journée. La saveur est très simple, vous pouvez penser que c'est ennuyant. Mais si vous avez la chance d'aller au Japon, essayez un peu de tofu local.
Le tofu que nous utilisons dans ce cours est ce que nous pouvons acheter au supermarché ou au magasin japonais en Suisse. Vous pouvez facilement l'incorporer dans la vie quotidienne.
* * *
Cours de cuisine japonaise : Cuisiner avec le tofu (CHF 98)
Le karage au tofu (poulet frit à la japonaise, nous le fabriquons avec du tofu)

Gyoza avec de tofu (frit à la poêle de façon japonais)

Shiraae (Salade traditionnel japonais de tofu et de légumes )

Amuse bouche avec aburaage (aburaage = tofu croustillant)

Tofu soboro don (bowl de riz avec hache de tofu et legumes)

Dessert au tofu est offer
* Touts les menus sont pour vegetarian.

Le menu peut être légèrement modifié dépend des ingrédients de saison

.
See you there! A bien tôt!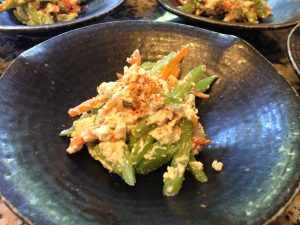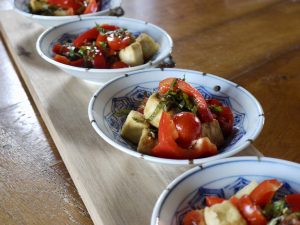 theMatchaGreen