Sushi Making Basics
Would you like to make Sushi at home? Take the MatchaGreen workshop "Sushi: the basics"! You will learn how to prepare the sushi rice and other ingredients and how to make the sushi. Once you learn the tips, you can try these at home easily.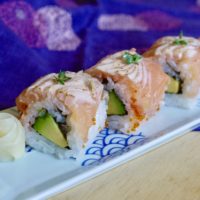 SUSHI MAKING BASICS : CHF115p.p.
You will learn:
How to prepare Japanese rice and sushi rice
Hosomaki sushi (small rolls)
Futomaki sushi (big rolls)
Uramaki sushi (inside out sushi rolls)
Temaki sushi (hand-rolled sushi)
Tamagoyaki (Japanese omelette)
A home made dessert and Japanese tea are included.
* For groups of 2 or more, classes take place on a weekday (Monday to Friday) at lunchtime.
You can choose the date your prefer, but the class will remain open in case others wish to join.
From 6 people, a private class can be arranged on a date of your choice, including evenings and weekends.