Cours de Cuisine Japonais
Japanese Home Cooking (cuisine japonaise familiale) : CHF110p.p.
In this course, you will learn about many of the Japanese foods we eat at home, from the more traditional to the more fusional. As these meals are eaten daily, they are easy and not difficult to prepare or arrange.
The menu for this course will change according to the season.
We will prepare one main dish (meat, fish or vegetarian) and several side dishes.
Dans ce cours, vous découvrirez de nombreux aliments japonais que nous mangeons à la maison, des plus traditionnels aux plus fusionnels. Comme ces repas sont consommés quotidiennement, ils sont faciles et pas difficiles à préparer ou à arranger.
Le menu de ce cours changera en fonction de la saison.
Nous préparerons un plat principal (viande, poisson ou végétarien) et plusieurs plats d'accompagnement.
---
Menu from Mars 2023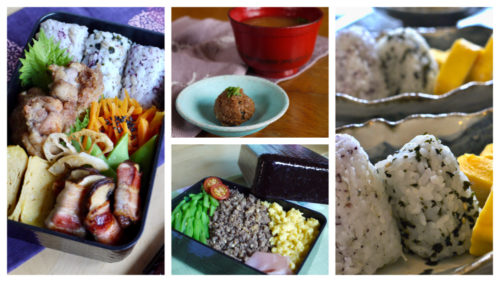 Japanese Home Cooking (Cuisine familiale japonaise) : CHF110p.p.
Vegetarian class
 with this menu will be held on
different dates.
In this class this season, we will make three different types of bento (Karaage bento, Sanshoku bento, Onigiri). We will make crispy and juicy fried chicken, a very popular bento dish. It will then be made into a bento. All dishes are excellent for bento lunches and also as everyday meals at home.
Les
cours végétariens
avec ce menu auront lieu à des
dates différentes.
Dans ce cours cette saison, nous ferons trois différents types de bento (Karaage bento, Sanshoku bento, Onigiri). Nous ferons du poulet frit croustillant et juteux, un plat bento très populaire. Il sera ensuite transformé en bento. Tous les plats sont excellents pour les déjeuners bento et aussi comme repas de tous les jours à la maison.
Bentô 1 : Karaage bentô
Karaage (Japanese style fried chicken / poulet frit à la japonaise)
Kimpira Carrot (carrot sautées / carottes sautées)
Tamagoyaki (Japanese rolled omelette / omelette japonaise roulée)
Seasonal vegetable / légumes de saison
*
Bento 2 : Sanshoku bentô (3 colours bentô /3 couleurs bentô)
Soboro (flavoured ground beef / bœuf haché aromatisé)
Iri-tamago (Japanese style fine scramble egg / œuf brouillé fin à la japonaise)
Seasonal green vegetable Légumes verts de saiso
*
Bento 3 : Onigiri/Omusubi (rice ball / balle de riz)
Triangle-shaped onigiri / Onigiri en forme de triangle
Rectangular round onigiri / Onigiri rond rectangulaire
*
Miso soup ball / Boule de soupe miso
(Offer: a dessert plate and Japanese tea or coffee / une assiette de desserts et du thé ou du café japonais)