Cours de Cuisine Japonais
Japanese Home Cooking (cuisine japonaise familiale) : CHF115p.p.
In this course, you will learn about many of the Japanese foods we eat at home, from the more traditional to the more fusional. As these meals are eaten daily, they are easy and not difficult to prepare or arrange.
The menu for this course will change according to the season.
We will prepare one main dish (meat, fish or vegetarian) and several side dishes.
Dans ce cours, vous découvrirez de nombreux aliments japonais que nous mangeons à la maison, des plus traditionnels aux plus fusionnels. Comme ces repas sont consommés quotidiennement, ils sont faciles et pas difficiles à préparer ou à arranger.
Le menu de ce cours changera en fonction de la saison.
Nous préparerons un plat principal (viande, poisson ou végétarien) et plusieurs plats d'accompagnement.
---
Menu from Octobre 2023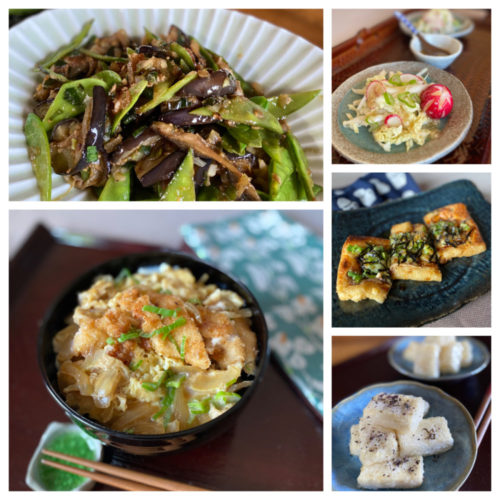 Japanese Home Cooking (Cuisine familiale japonaise) : CHF115p.p.
Vegetarian class
with this menu will be held on
same dates.
Chicken Katsu-don (bowl of rice topped with oven-baked crispy chicken and egg)

Crispy tofu – flavoured with yuzu and Japanese herb aka-shiso (red 

perilla)Stir-fried aubergine with miso

Teriyaki-flavoured fusion "Otsumami (snack)"

Simple Japanese style salad
*Gluten-free : This menu uses breadcrumbs, which can be replaced by gluten-free alternatives. However, for this menu, it can not change to gluten-free seasoning products, for cooking facility and other reasons. Thank you for your understanding. For more information, please contact me.
Les
cours végétariens
avec ce menu auront lieu à des
dates même.
Donburi au poulet Katsu (bol de riz garni de poulet croustillant cuit au four et d'un œuf)

Tofu croustillant – aromatisé au yuzu et au shiso rouge (perilla rouge)

Aubergines sautées au miso

"Otsumami (amuse bouche)" fusion à la saveur Teriyaki

Salade japonaise simple
*Sans Gluten : Ce menu utilise de la chapelure, qui peut être remplacée par des produits sans gluten. Cependant, pour ce menu, il n'est pas possible de passer à des produits d'assaisonnement sans gluten, pour des raisons de facilité de cuisson et autres. Je vous remercie de votre compréhension. Pour plus d'informations, veuillez me contacter.
(Offer: a dessert plate and Japanese tea or coffee / une assiette de desserts et du thé ou du café japonais)