Hello everyone! How are you enjoying the Spring season? Because so many flowers start to bloom in Switzerland after the long winter, it makes me miss Japanese cherry blossom. Well, here there are many different flowers which I can enjoy a lot! The feelings are different, but both make me happy, and encourage me to go forward. Love the feeling in Spring!
In this post:
1: New cooking class schedules in May and June.
2: Renewed Cooking Classe menus for your private group event.
3: Cooking battle at the Miam festival in Lausanne (20 May).
4: Demonstration and workshop at the Taste of ASIA festival in Lausanne. (26 May).
This season's Introduction to Japanese Cooking Class menu will help at your summer home parties! After you learn it, it would be very easy to adapt new ideas and ingredients to your own recipes. Check the cooking class schedule on the calendar, and sign up!!!
Remember? If you are already a group of more than 4 people (for evening and weekend classes from 6 people), you may suggest your preferred date. Please contact us.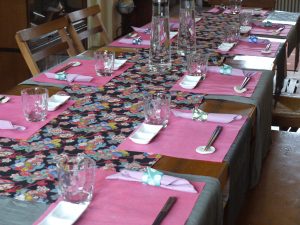 Are you looking for a different activity for your group event? How about a Japanese cooking class?
There is not only a Sushi Fun Class, but also other classes based on our original classes* (Gyoza, Okonomiyaki, Introduction to Japanese Cooking). These are designed for you to have a fun time together, and also learn a lot about Japan!
Have you ever been the outdoor food festival in Lausanne called MIAM festival? Its organised by Lausanne table. I will be there to join their program in an amature chefs battle (12H-)!
This Taste of ASIA festival is the first event of the Asian sensation association which introduces Asian foods and culture. This festival takes place in the Place de Pyramide in Vidy. I will do a cooking demonstration (Bento : 17h-), followed by a workshop (Onigiri : Japanese rice ball & Onigirazu : rice sandwich). There will be many food stands and activities (including my cooking workshop). Please join us and enjoy an early Summer weekend event!